Cuando su esposa embarazada se convierte en la última víctima de un asesino en serie, un agente secreto cruza la linea ente el bien y el mal en su búsqueda de venganza. Un thriller brutal muy interesante y bien dirigido.
When his pregnant wife becomes the latest victim of a serial killer, a secret agent blurs the line between good and evil in his pursuit of revenge. A very interesting and brutal thriller well directed and interpretated
.
I saw the devil
, Jee-woon Kim, 2010
Marybeth escapa de las garras del carnicero Victor Crowley y regresa al pantano con un ejército de cazadores y pistoleros, determinados a acaba con el reinado de terror Crowley de una vez por todas. Litros de sangre y casquería en esta divertida película, terriblemente interpretada.
Marybeth escapes the clutches of the bayou-butcher Victor Crowley and returns to the swamp with an army of hunters and gunmen, determined to end Crowley's reign of horror once and for all. Lots of gore in this funny and awfully intrepretated movie.
Hatchet II
, Adam Green, 2010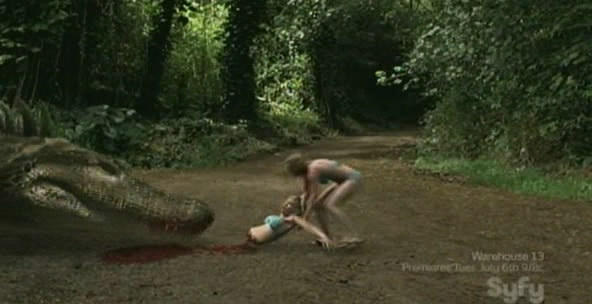 Científicos corriendo, reptiles gigantes, chicas en bikini y David Carradine. Tan mala que resulta hilarante.


Scientifics running, giant reptiles, girls in bikini and David Carradine. So bad it is hillarious.
Dinocroc vs. Supergator
,
Rob Robertson & Jim Wynorski
, 2010
Pin It